If you ever think about working with a personal trainer but don't have the time or the money, a virtual fitness boot camp might be your answer. During a virtual fitness boot camp, you receive workout routines to follow each month. When you pair your virtual fitness boot camp with nutritional planning, you can reach your fitness as well as weight loss goals.
Virtual fitness boot camp workouts give you maximum benefit in the least amount of time. If you have yet to join a virtual class or get your fitness routine on track for 2022, consider these reasons for joining a virtual fitness boot camp.
What is a Boot Camp Workout?
Military-style boot camp workouts are a game changer. They hit each muscle group, requiring you to work hard to achieve results – and they're relatively short workouts.
There are dozens of military-style boot camp workouts available online, with various levels of intensity. Some workouts incorporate equipment you can typically find at home, such as a yoga mat, dumbbells and even a towel.
Boot camp workouts are intense, high-powered and can be part of any fitness plan. These intense workouts include exercises that focus on your core, upper and lower body, as well as your shoulders, arms and legs. They also include running, jumping and different types of endurance-building exercises.
What Happens During a Boot Camp Workout Class?
A typical boot camp workout takes about an hour and involves several stations or challenges. Participants work out in groups led by an instructor.
For example, an instructor might assign each person to one of five stations and instruct you to run, jog or walk quickly from station to station until the entire group returns to the starting point. Station exercises include running, lunges and jumps.
Military-style pushups, sit-ups and pullups are also a part of a typical boot camp workout.
Pretty much any workout that is full of high-energy exercises like running, jumping, sit-ups, push-ups, squats and sprints can be considered a boot camp workout. Once you try a boot camp workout, especially an at-home virtual boot camp, you'll be hooked.
The Benefits of Boot Camp Workouts
Boot camp workouts are effective for losing weight, toning and strengthening the muscles, and increasing endurance. The exercises in a boot camp workout are usually ones that focus on the entire body, such as squats or lunges.
Those who follow a boot camp workout program also can get a great deal of motivation from the live trainers. Those who prefer to work out alone may not benefit as much from such a program, but this is where at-home workouts are beneficial.
Boot camp workouts have a reputation of being hard. They are. However, they are hard because they make you work your body in a way that you are not used to. They really do boot you into shape in a very short amount of time. If you want to lose weight, get toned, and improve your overall fitness level then you need to give a boot camp workout a chance.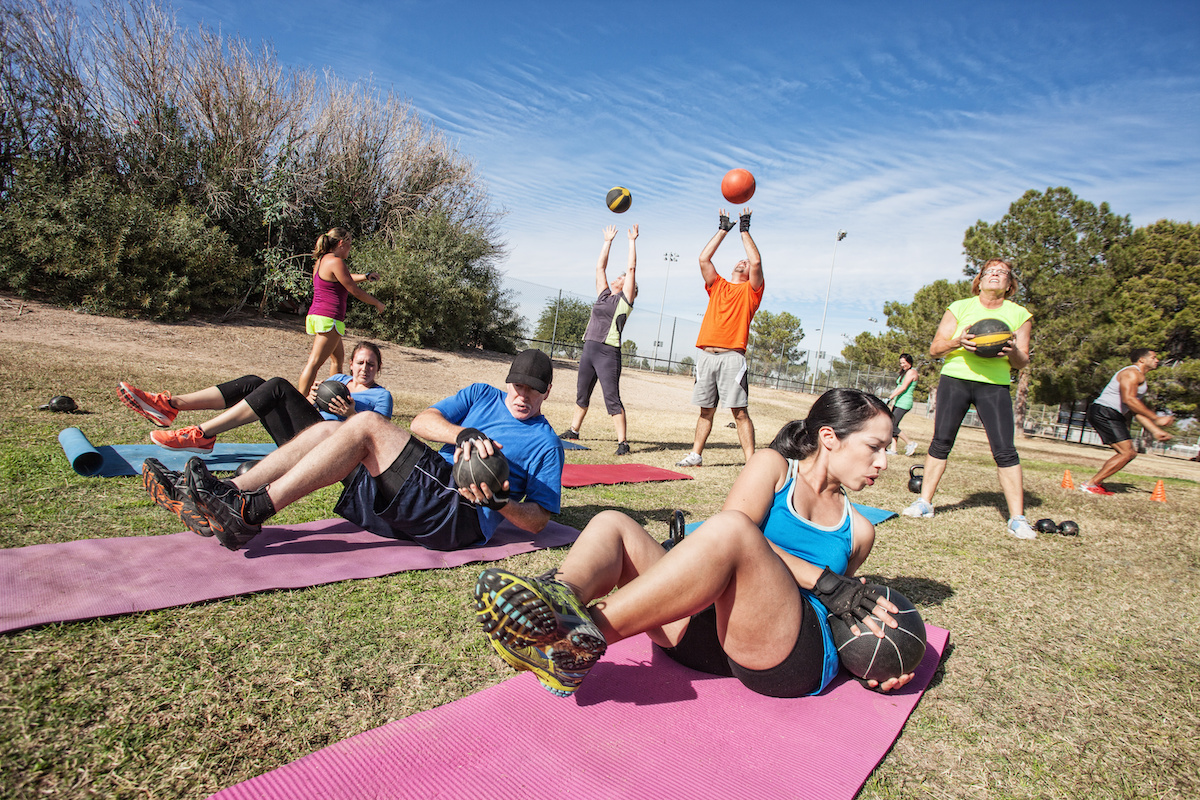 1. Kickstart Your Fitness with a Virtual Boot Camp
When you're looking for a way to kick off your fitness program in the new year, consider a virtual fitness boot camp.
By joining a virtual boot camp, you do all the work at home with your own equipment. The workout comes to while streaming online. Some virtual boot camps allow you to attend on your schedule, and or you can join the group within the timeframe given. There's no need for the "real" boot camp to start in a local gym. You can jump in when classes begin from the comfort of your home.
As the name implies, you don't have to be in the same city as your trainer to get the same benefits. Here's how it works: You sign up for a fitness boot camp and pay for a certain number of weeks. At Generation Fit, you sign up for 3 times per week, month-to-month. There is no contract or commitment!
Social distancing and Lowering the Risk of Catching COVID-19
Unfortunately, we are still in a world where COVID-19 is a concern. Many people are hesitant to renew gym memberships during or after the pandemic. A virtual fitness boot camp bridges the gap between wanting to work out and avoiding catching or spreading COVID-19.
The ability to do workouts right from home adds a layer of safety and comfort when dealing with the COVID-19 virus. Learning new workout routines is always a great motivator for people to exercise. This is especially important during the winter, which is also cold and flu season.
Not only does the social distancing serve as a barrier of protection against Covid-19, but it can also reduce catching a cold or the flu. It's the perfect way to stay healthy while getting your workout done in the comfort of your home.
Increase Confidence
Did you know that exercising can increase your confidence? Regular physical activity can lead to more confidence in your abilities and your physical appearance. Because you'll be doing something that you enjoy, you'll be feeling more relaxed, which will make you feel more confident. Many people have a hard time being confident about what they can do, but if you start an exercise program, you'll develop more self-confidence.
This is why many people choose to participate in a virtual fitness boot camp. You'll get to build your fitness, get in shape, and experience newfound confidence along the way.
Reduce Stress
Exercise is an amazing outlet for reducing stress. Whether it's running, lifting weights, or just going for a leisurely walk. Exercise is an important factor of a healthy lifestyle. Not only does exercise reduce stress, but it can help you lose weight, sleep better, and gain confidence.
Getting your heart rate up and working out regularly has been proven to alleviate stress as well as help reduce blood pressure and cholesterol levels.
Build Muscle and Boost Metabolism
One of the great benefits of boot camp is that it can build muscle, which causes your body to burn calories more efficiently. Improve your overall health, maintain an ideal weight, and reduce your risk of chronic disease.
You can build muscle with boot camp by way of using your own bodyweight for strength training. Your own body weight can serve as an incredibly effective way to build muscle and shed fat.
Building muscle through strength training and boot camp can also boost your metabolism, which means that you'll burn more calories throughout the day, even when you're not working out. The more muscle you have, the more calories you'll burn.
Sleep Better at Night
Eating well and getting enough sleep can help decrease stress by boosting your energy levels, giving you more time to handle the stressors in your life. It also provides you with the energy you need to handle challenging tasks. Best of all, it can help improve the quality of your shut-eye at night. But how does exercise affect sleep?
The connection between exercise and sleep is simple, really:
Exercise can help you sleep better because it induces a natural, calming relaxation, which helps your brain and body wind down and fall asleep more easily.
What You Need to Know About the Best Fitness Bootcamp
If you're looking to improve your fitness or even lose weight in 2022, you're in luck. Generation Fit offers a virtual fitness boot camp that you're bound to love.
Maintaining a healthy lifestyle can be difficult when confronted with the COVID-19 situation. We want to help you achieve your fitness goals and stand by you throughout your weight loss journey at Generation Fit!
With our Virtual Bootcamp, you can continue your personal training while maintaining social distance. The classes are $135 for 3 times a week for 30 minutes. No contracts, no commitments.
Each class includes a full-body workout, cardio, strength, and circuit with a virtual fitness trainer.
Sign up for Virtual Bootcamp Now
Moh, our personal trainer, can help you to sign up and become your virtual fitness trainer now! Get an automatic membership by calling (813) 340-3008.
VIRTUAL BOOTCAMP SCHEDULE:
– Monday 6 am, 12:30 pm, 6 pm
– Tuesday 6 am, 6 pm
– Wednesday 6 am, 12:30 pm, 6 pm
– Thursday 6 am, 6 pm
– Friday 6 am, 12:30 pm, 6 pm